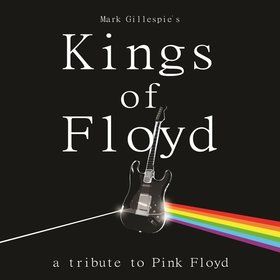 a Tribute to Pink Floyd
Sie covern legendäre Songs wie "Another Brick in the Wall" oder "Wish You Were Here" und das mit unnachahmlicher Präzision. Die Rede ist von Kings of Floyd unter der Leitung von Gitarrist Mark Gillespie. Sound, Show, Stimme - bei den Auftritten der Band werden Sie glauben, Pink Floyd stehen auf der Bühne!

Bis heute garantiert die siebenköpfige Formation Kings of Floyd um den englischen Gitarristen Mark Gillespie musikalische Extraklasse. Die Tribute-Band bietet dem Publikum eine Zeitreise durch die neun erfolgreichsten Jahre von Pink Floyd. Die Songs der Kultband waren für viele der Soundtrack ihrer Jugend und noch heute stehen die psychedelischen Klassiker wie "Dark Side of the Moon", "Wish You Were Here" und "The Wall" für ein besonderes Lebensgefühl. Die Kings of Floyd schaffen es mit ihrer herausragenden Show, eben jenes Lebensgefühl auf die Bühne zu bringen. Von der atmosphärischen Licht-und Videoinstallation bis hin zur Stimme von Mark Gillespie: hier stimmt einfach alles.

Ein Konzert von Kings of Floyd ist die perfekte Illusion. Wenn Sie Ihre Augen schließen, werden Sie nicht fassen, wie authentisch die Band ihre Vorbilder nachahmt. Sichern Sie sich heute noch Tickets bei Reservix und katapultieren Sie sich schon bald für einen Abend zurück in die 70er-Jahre!
Source: Reservix